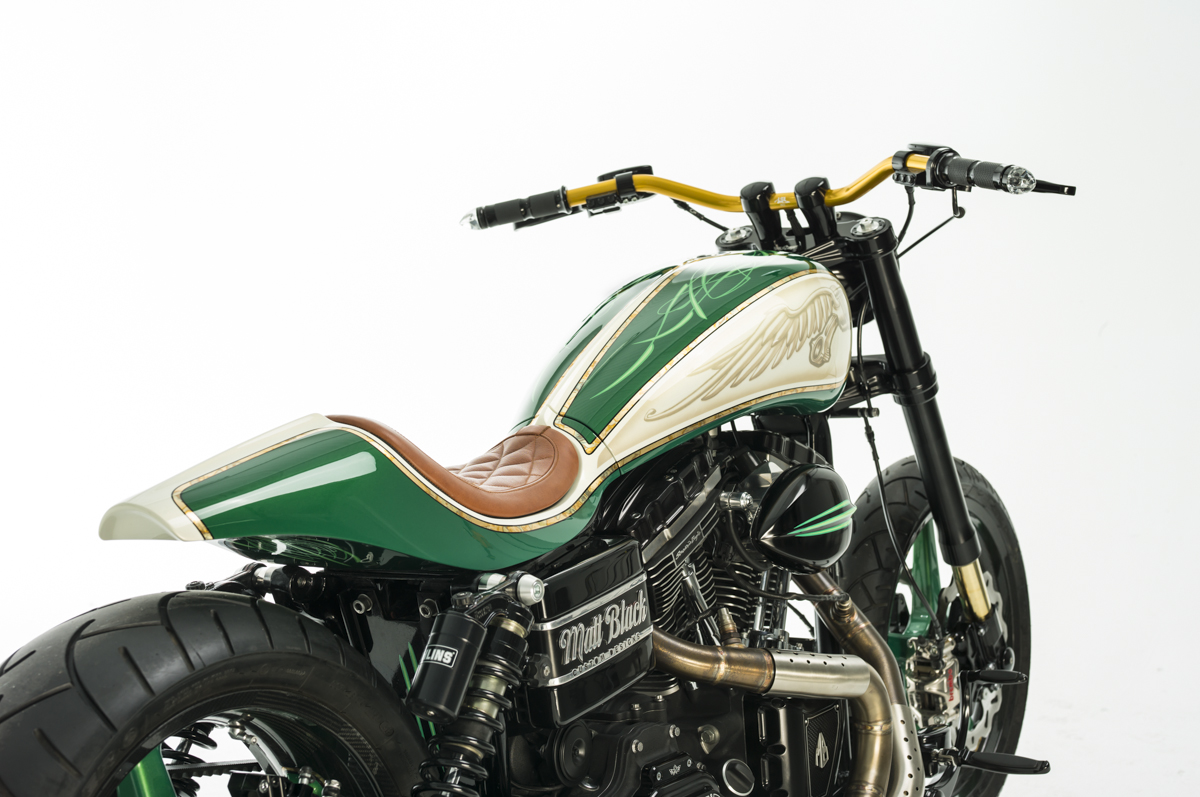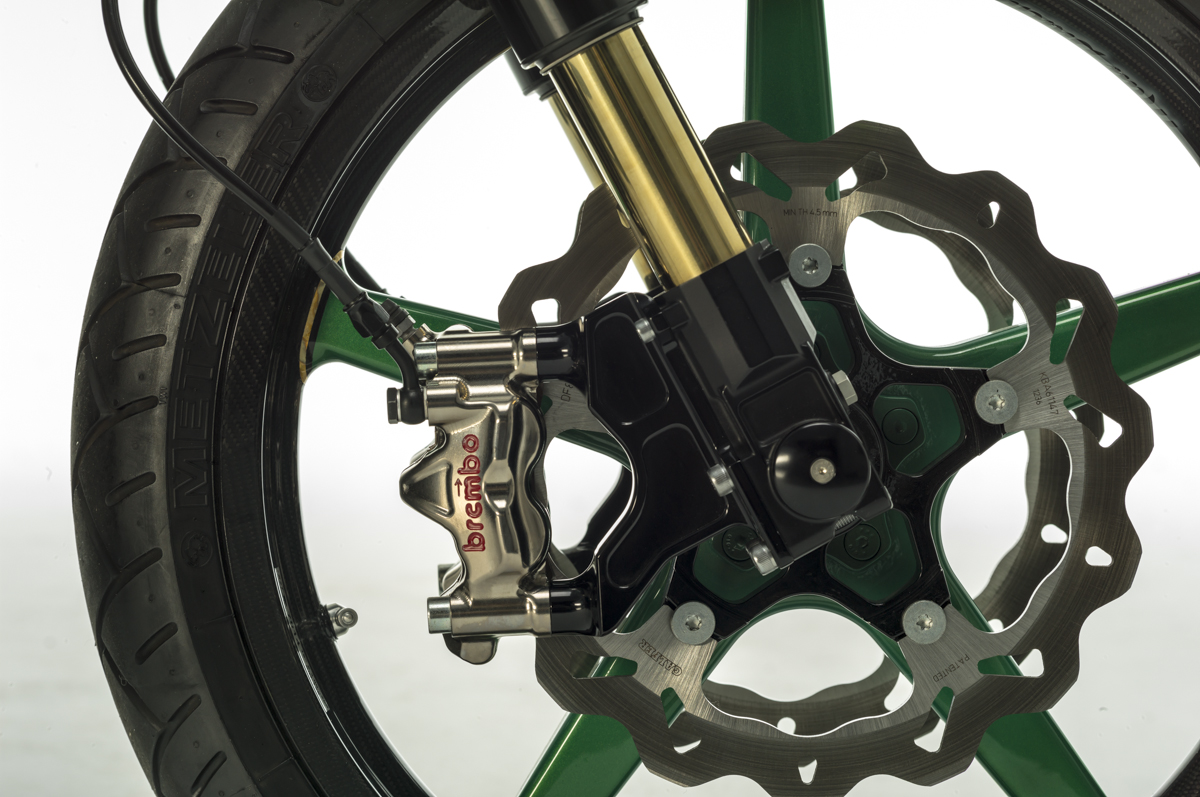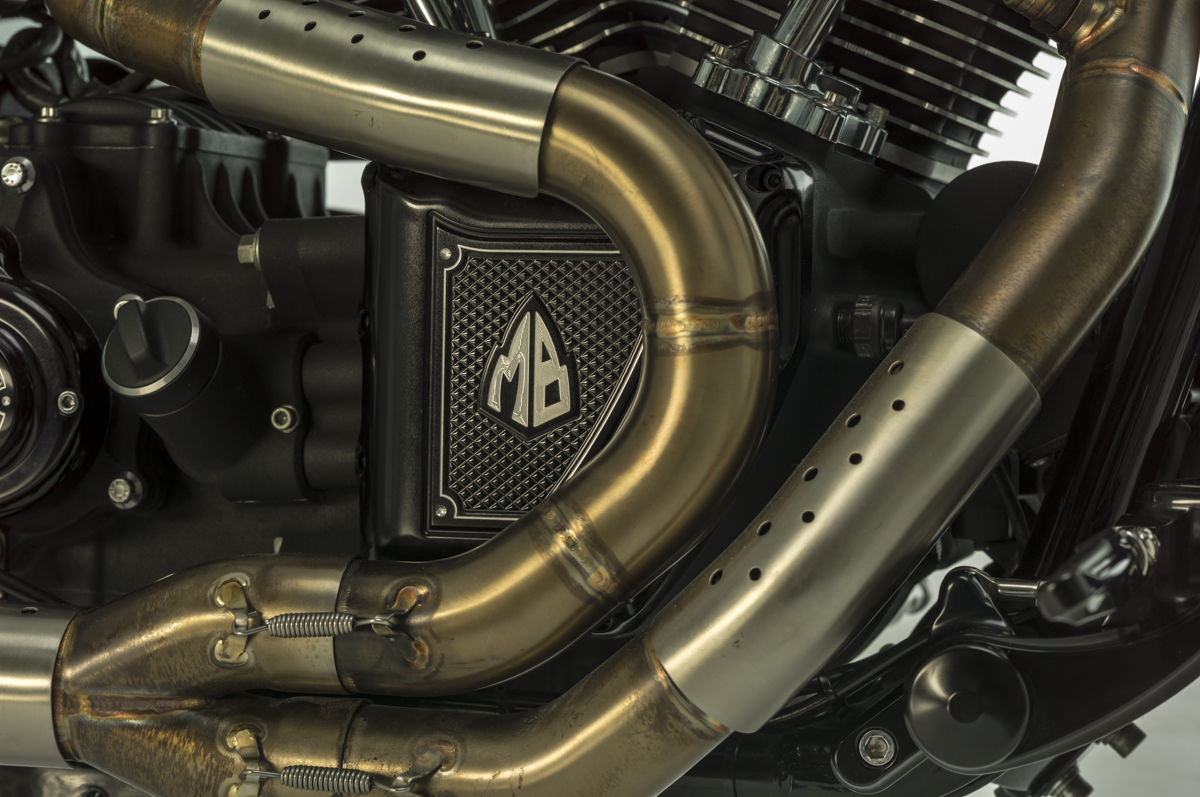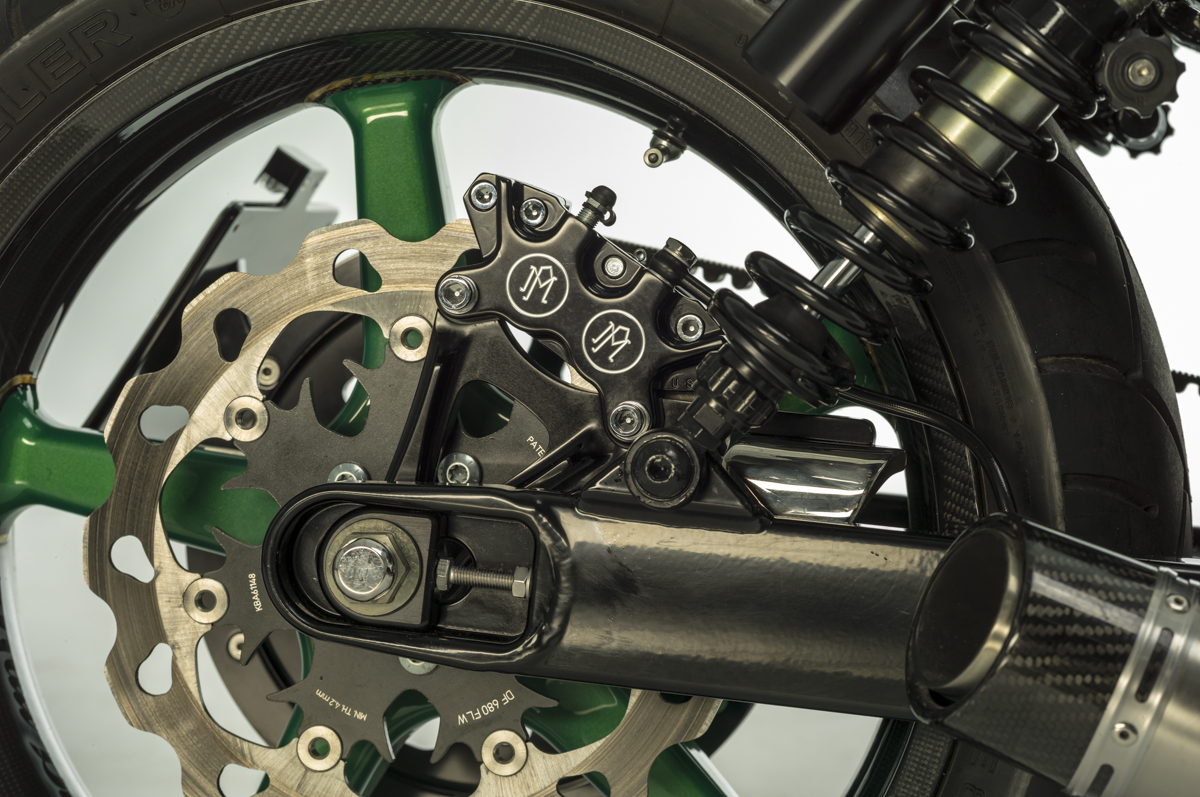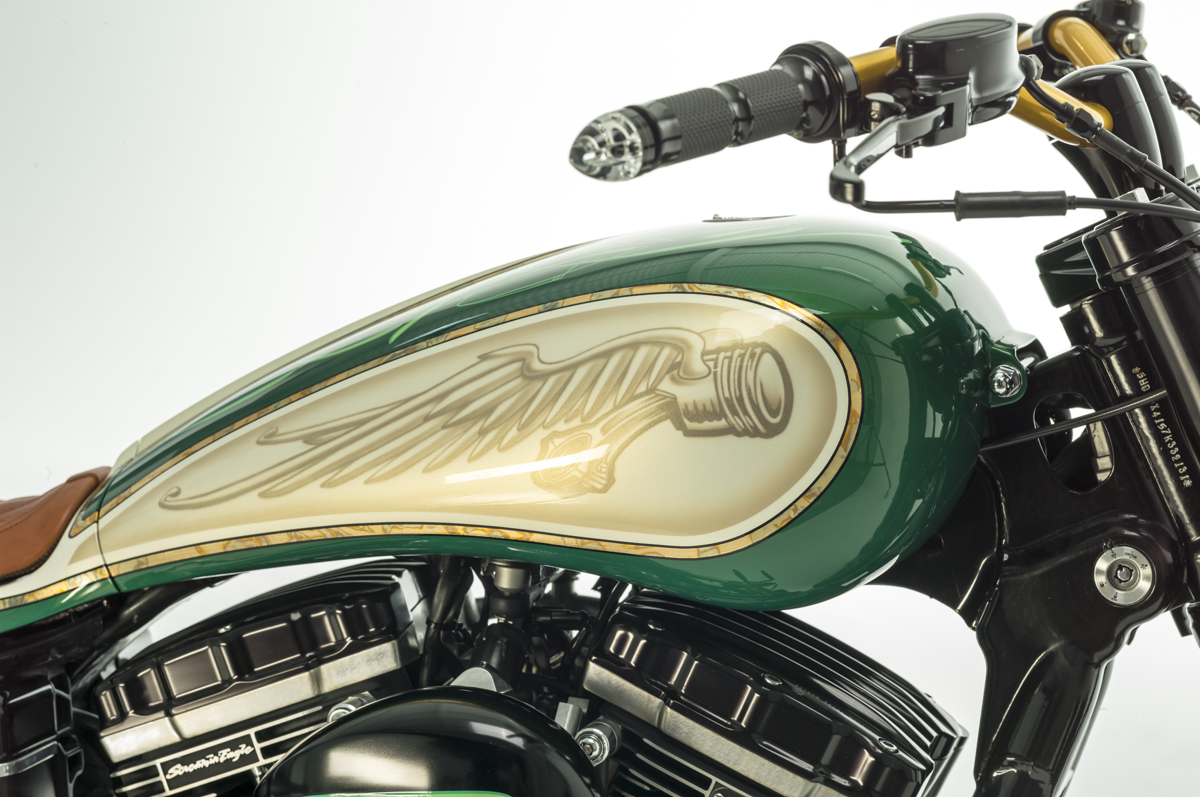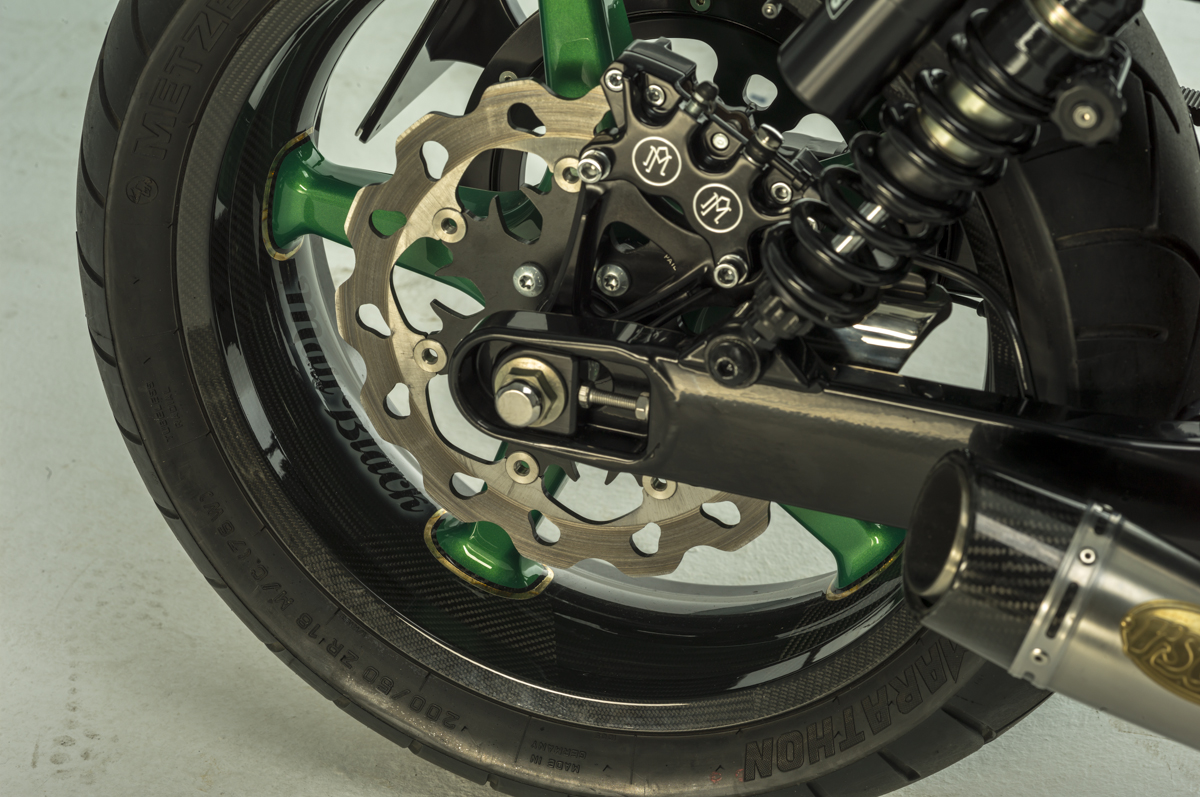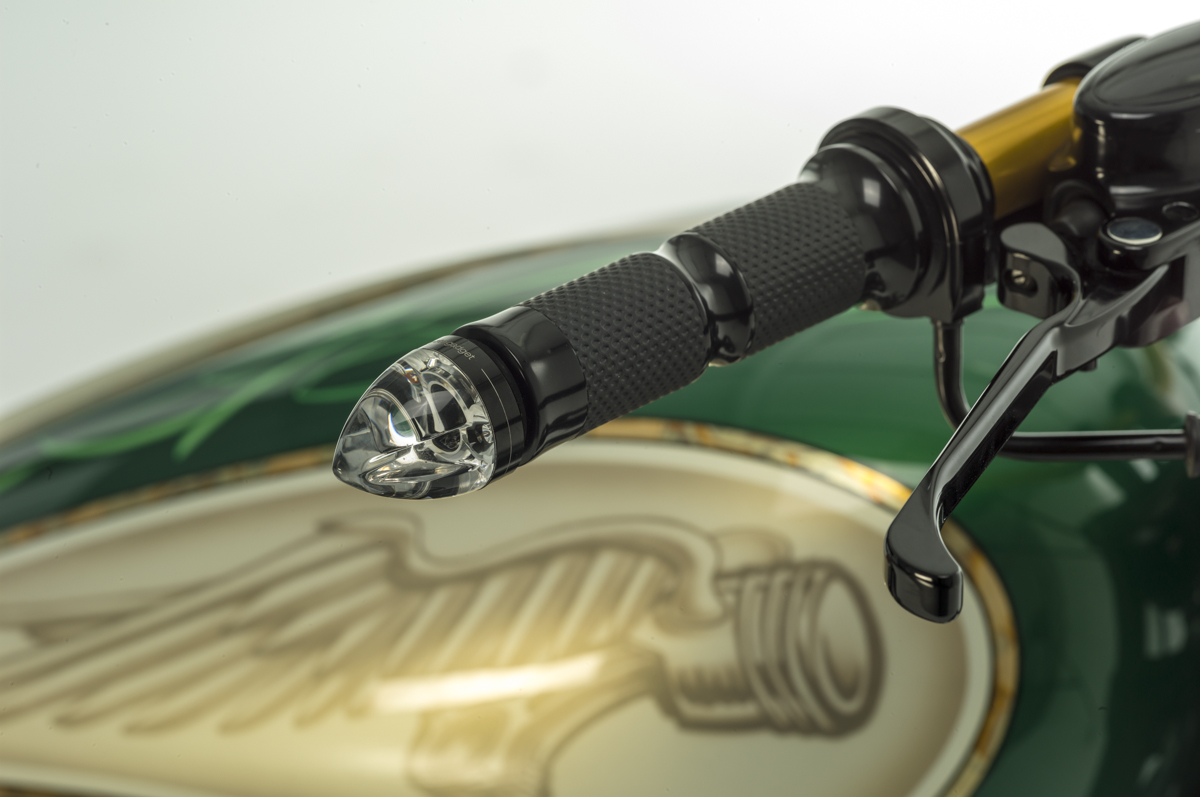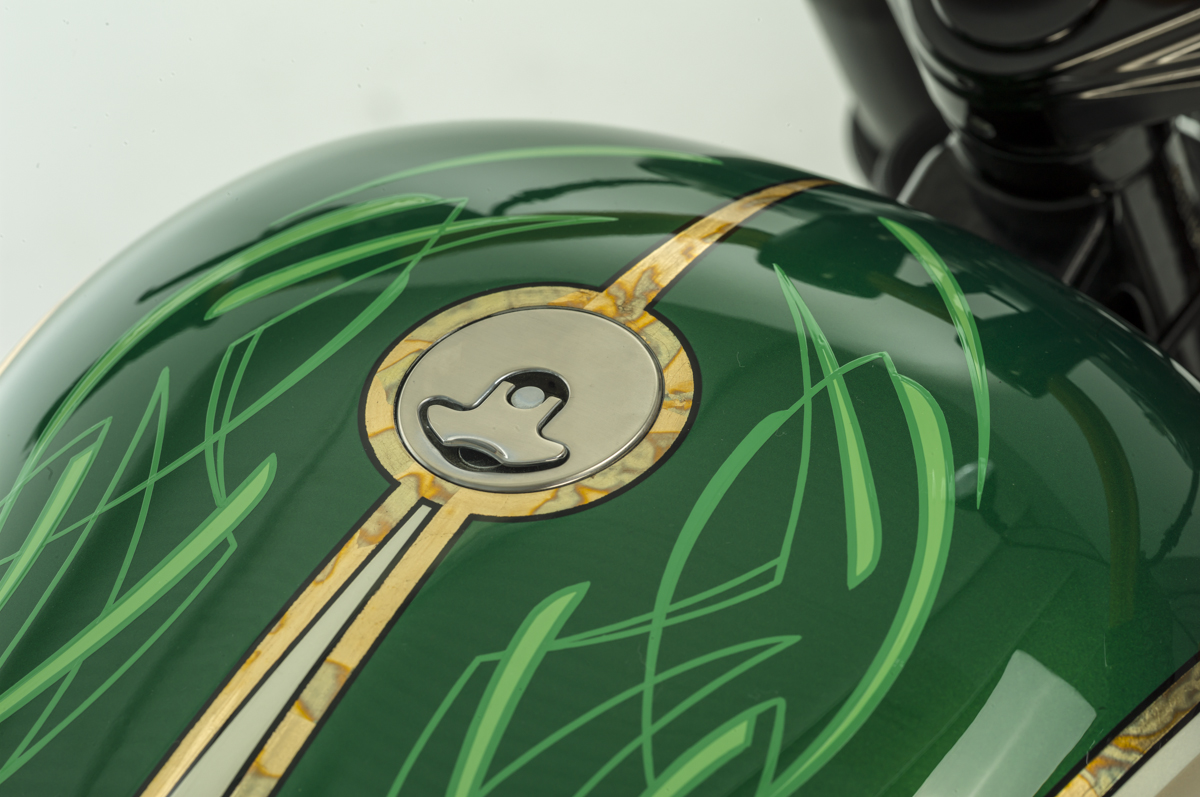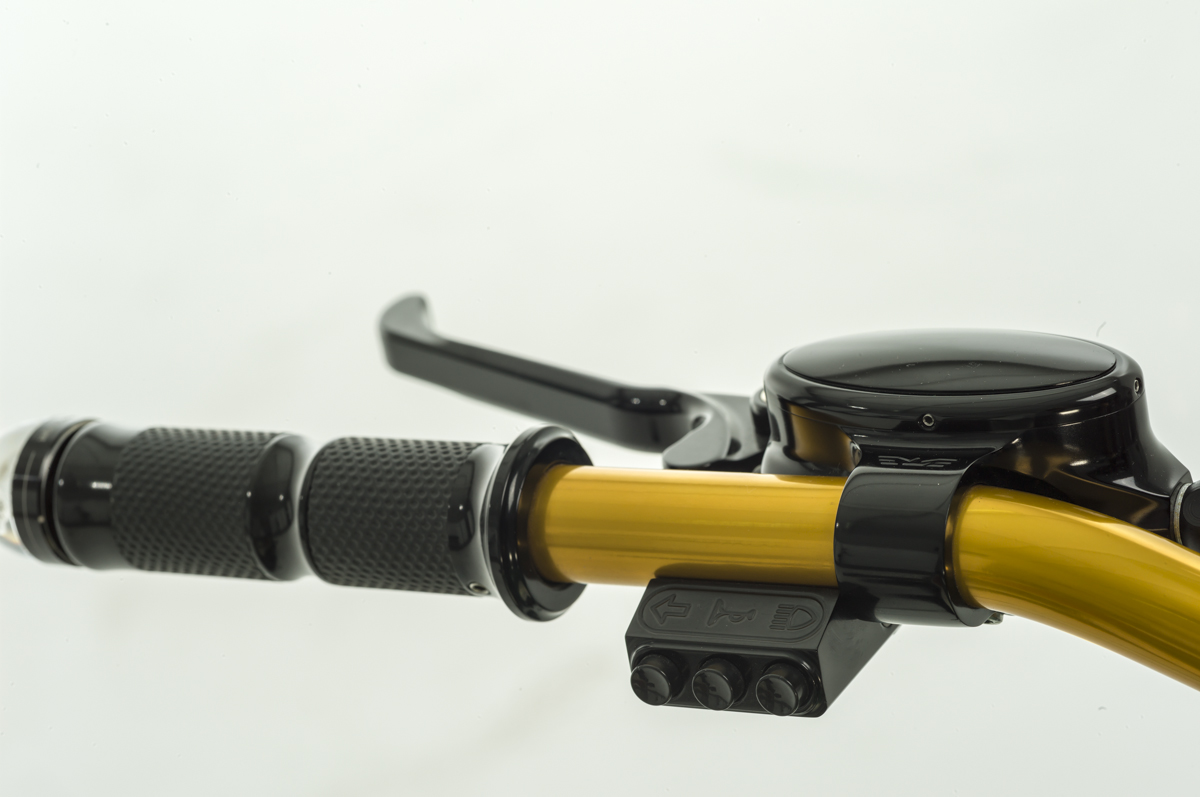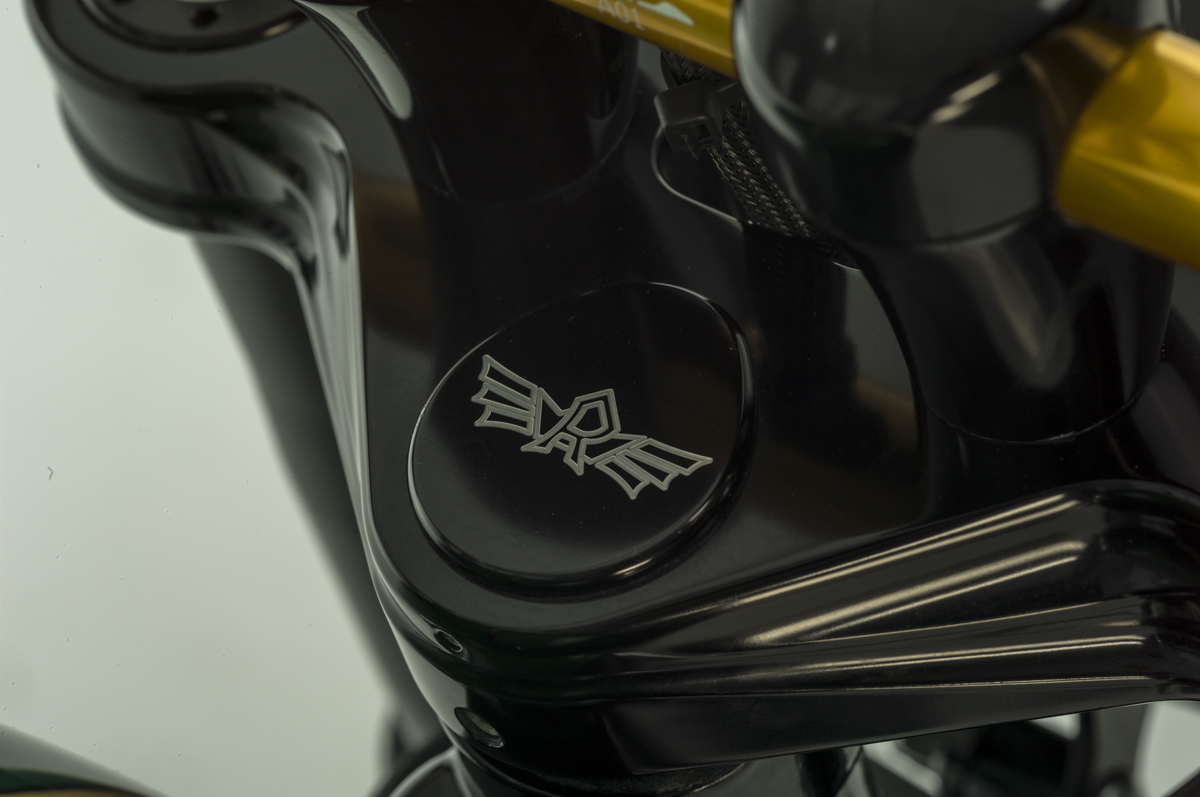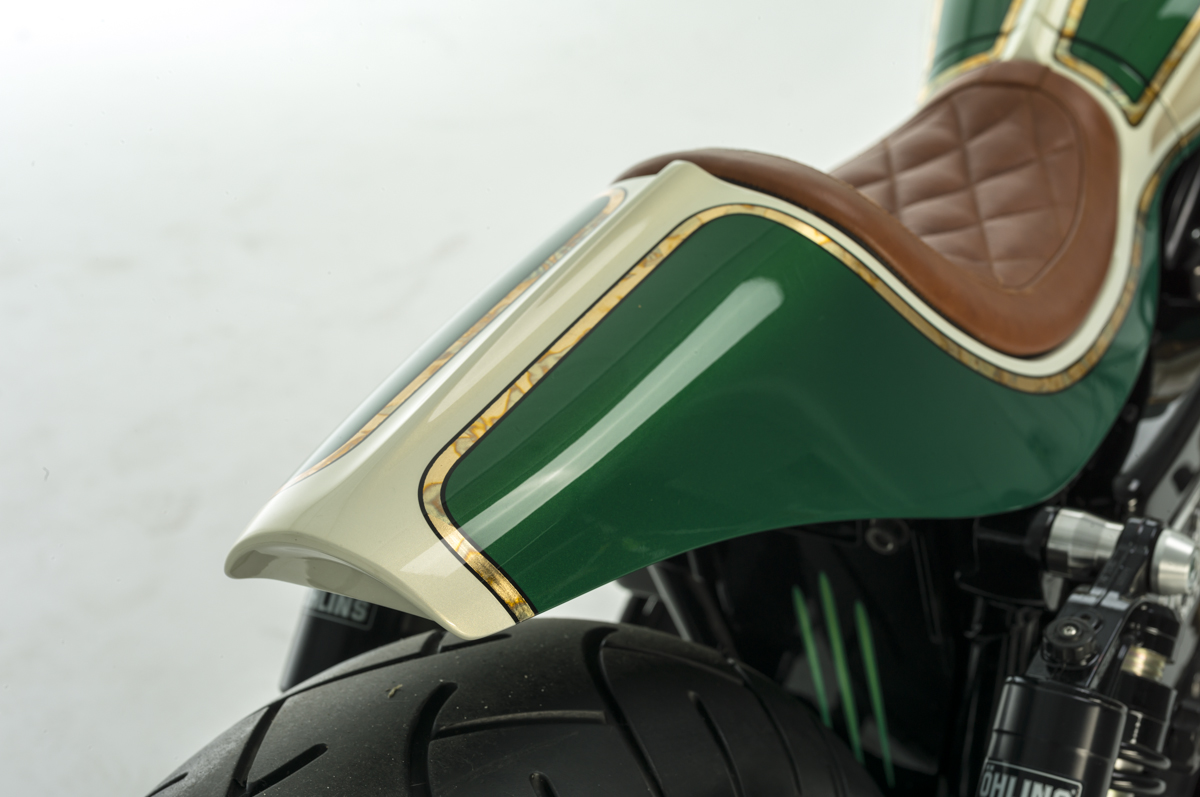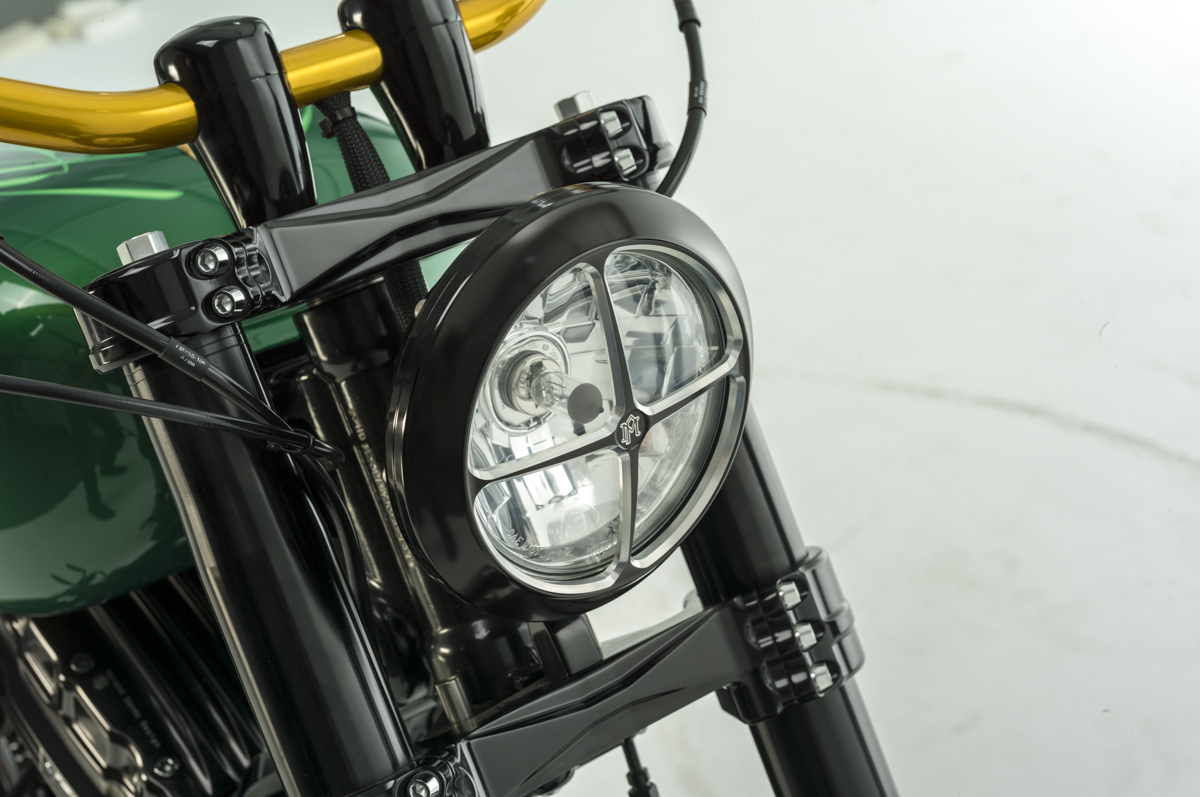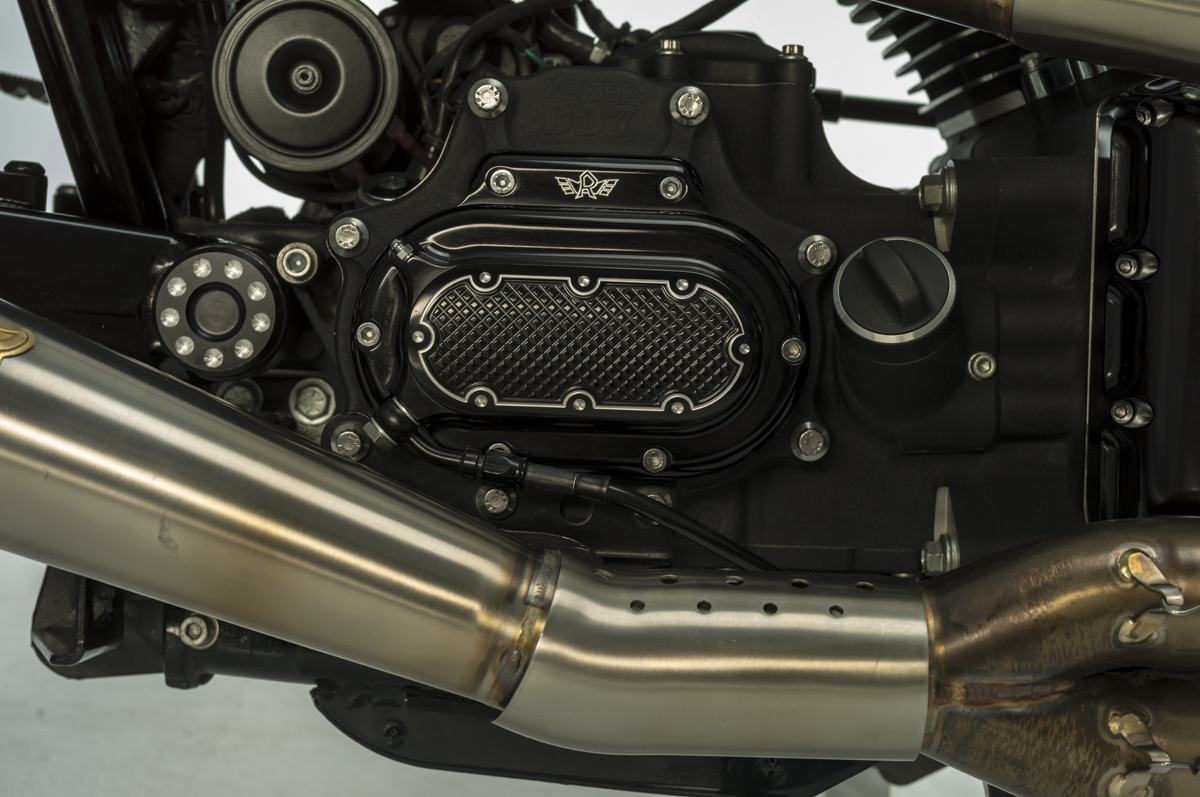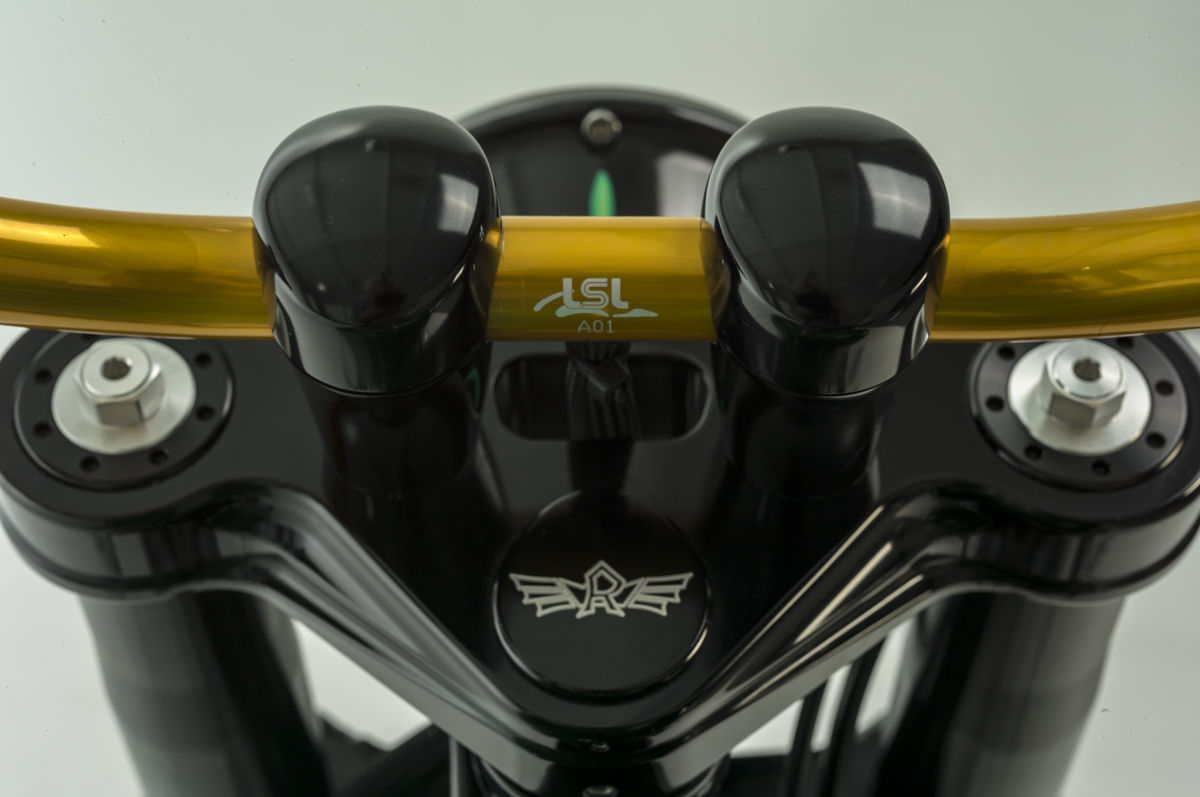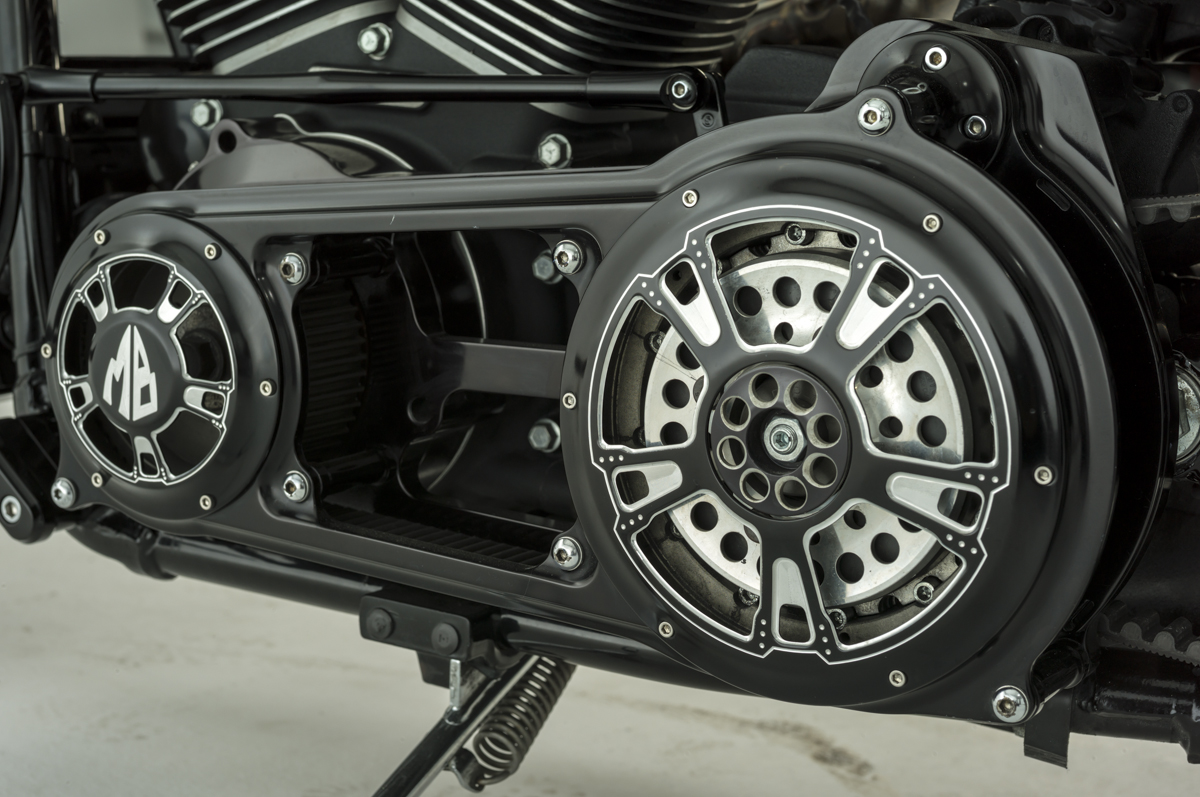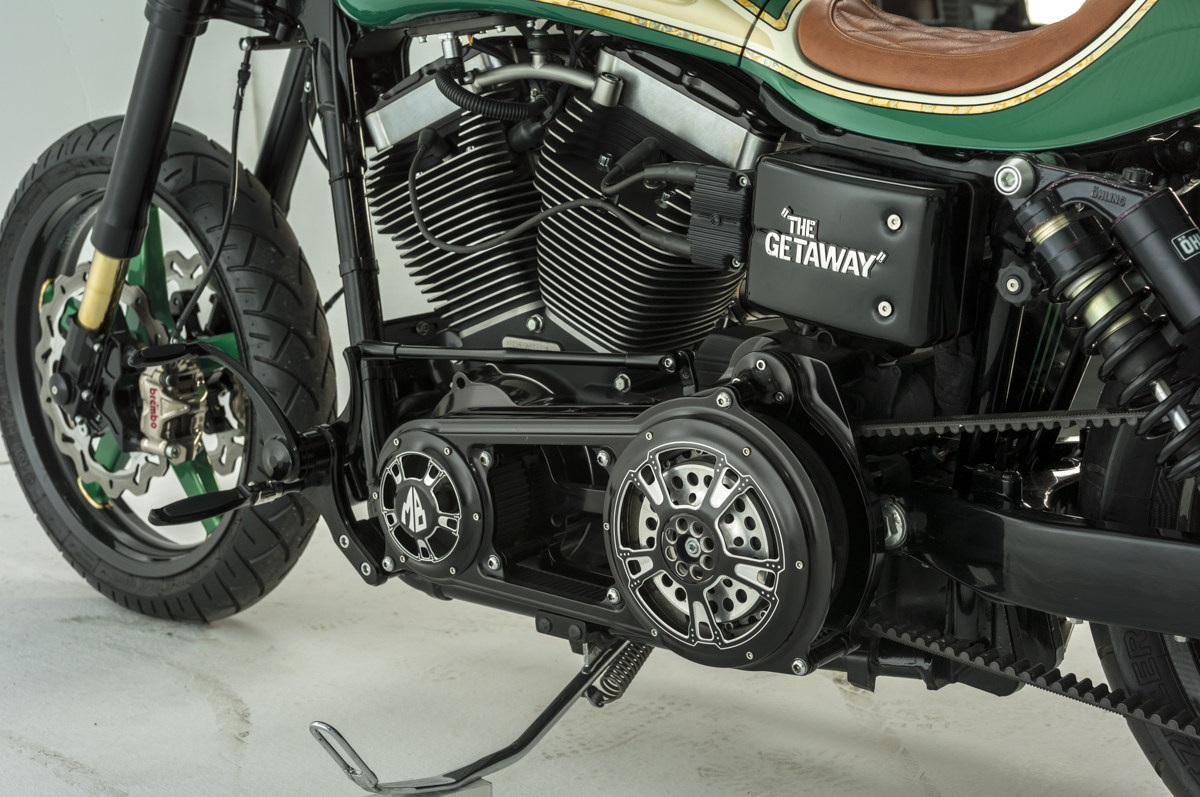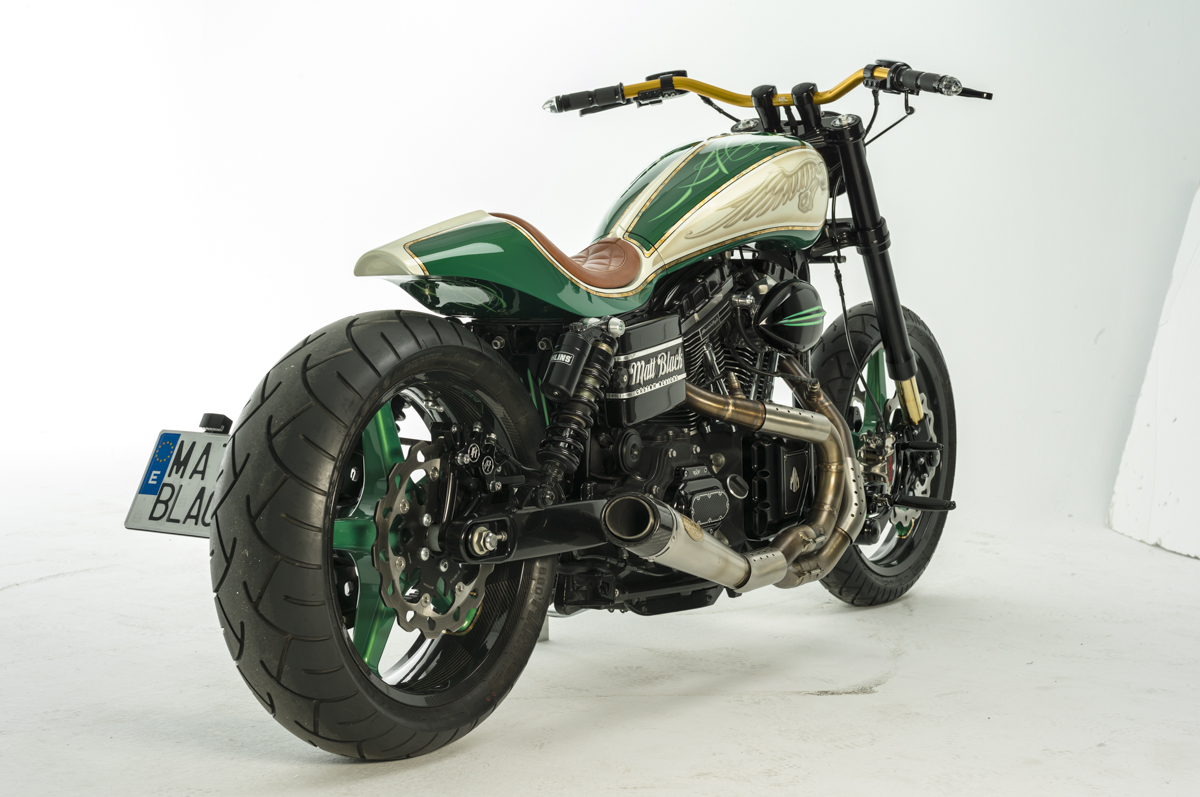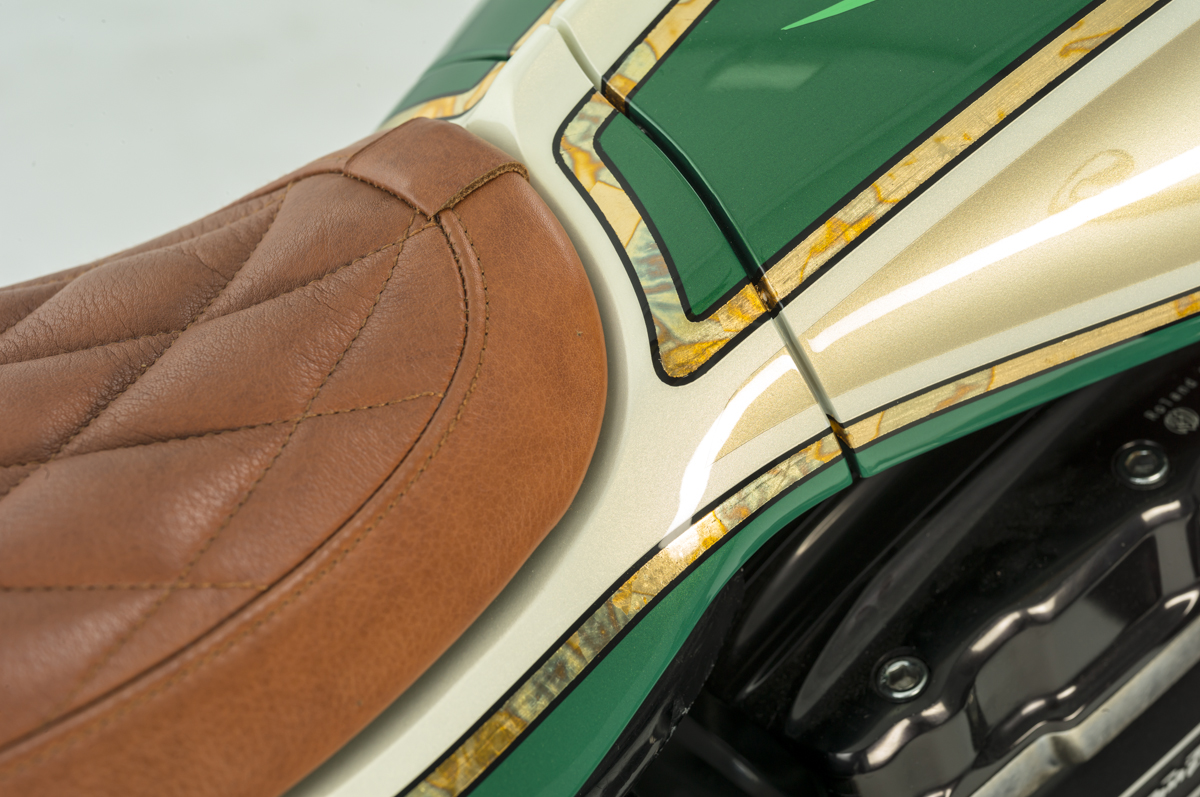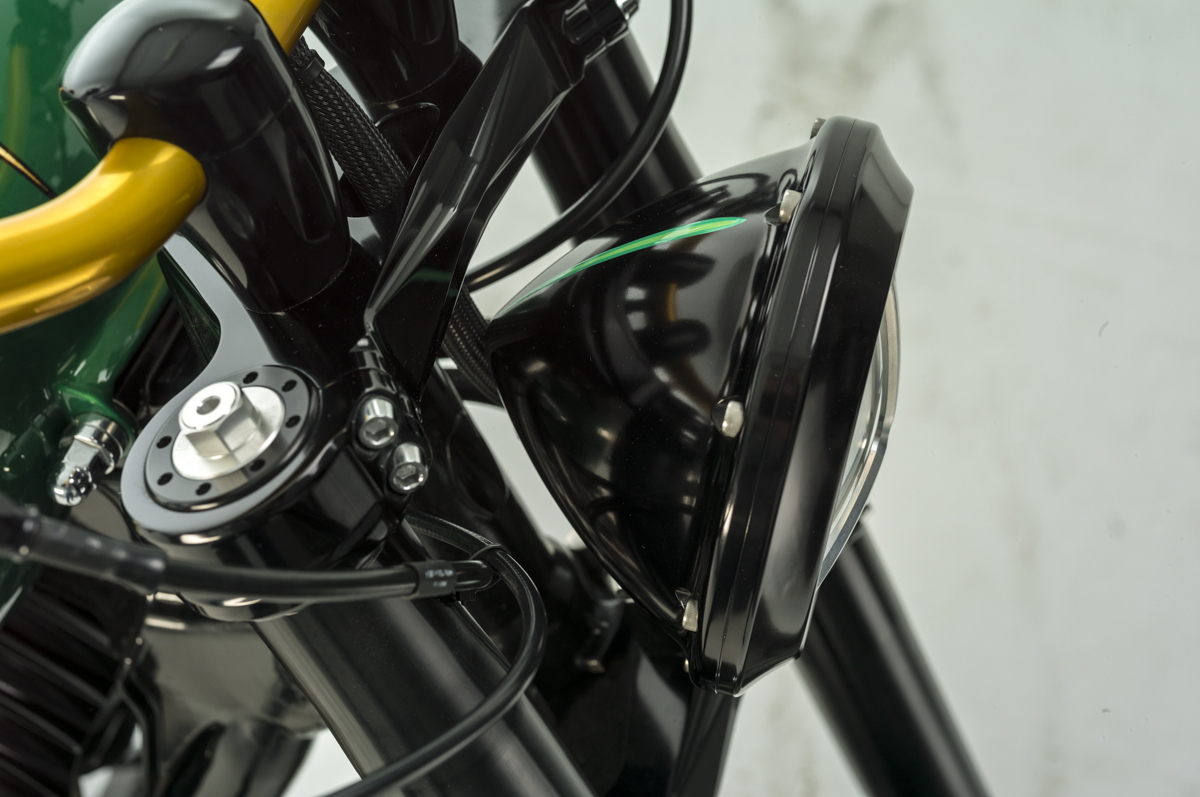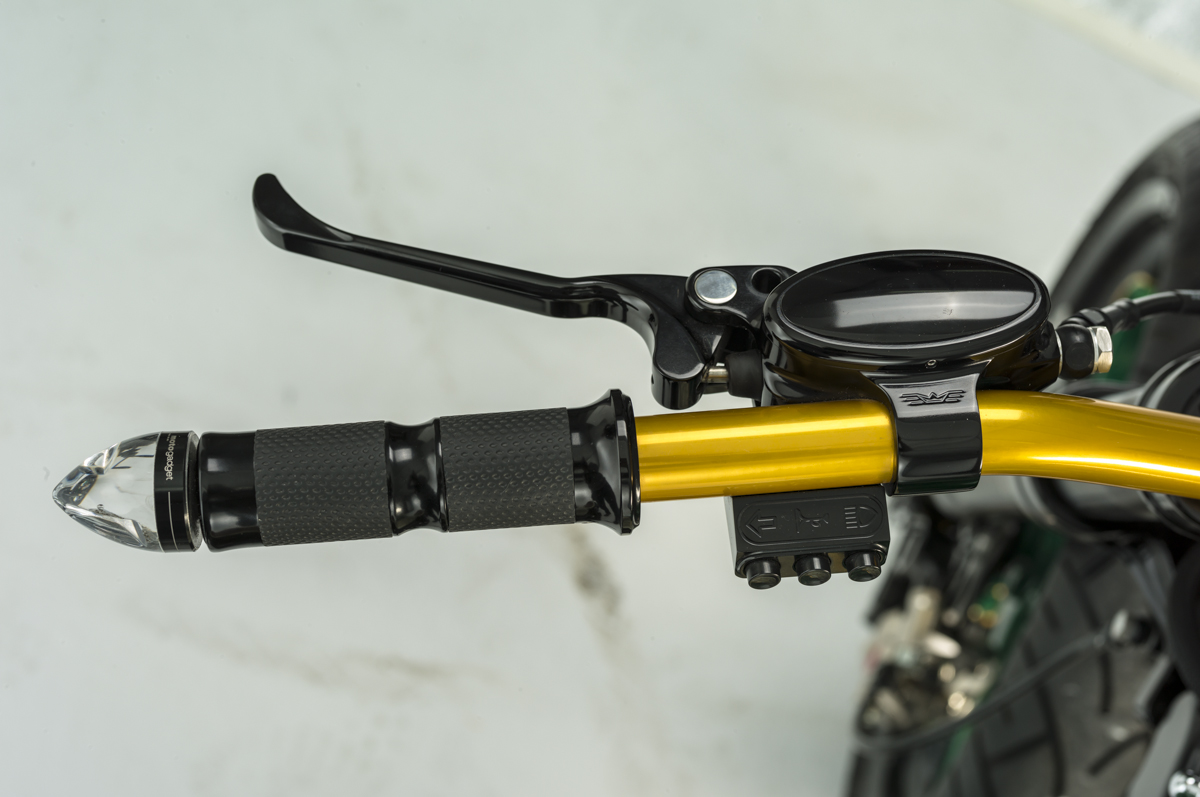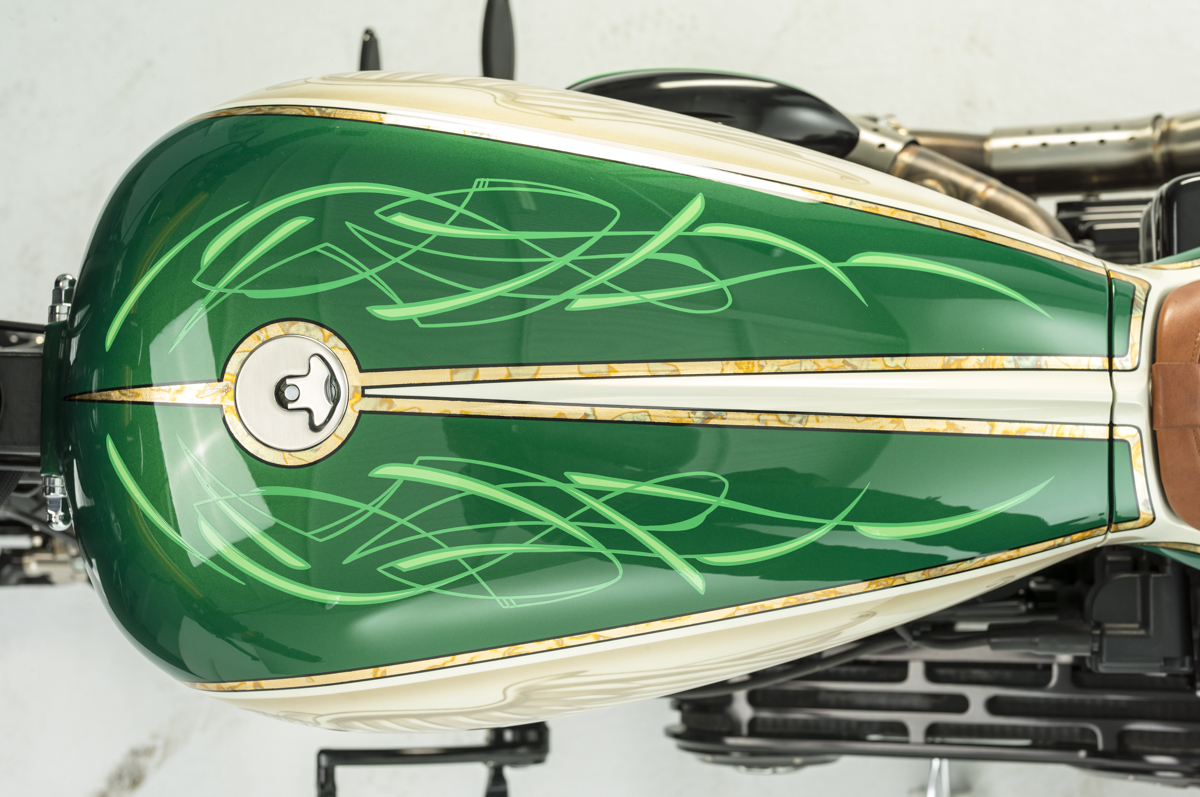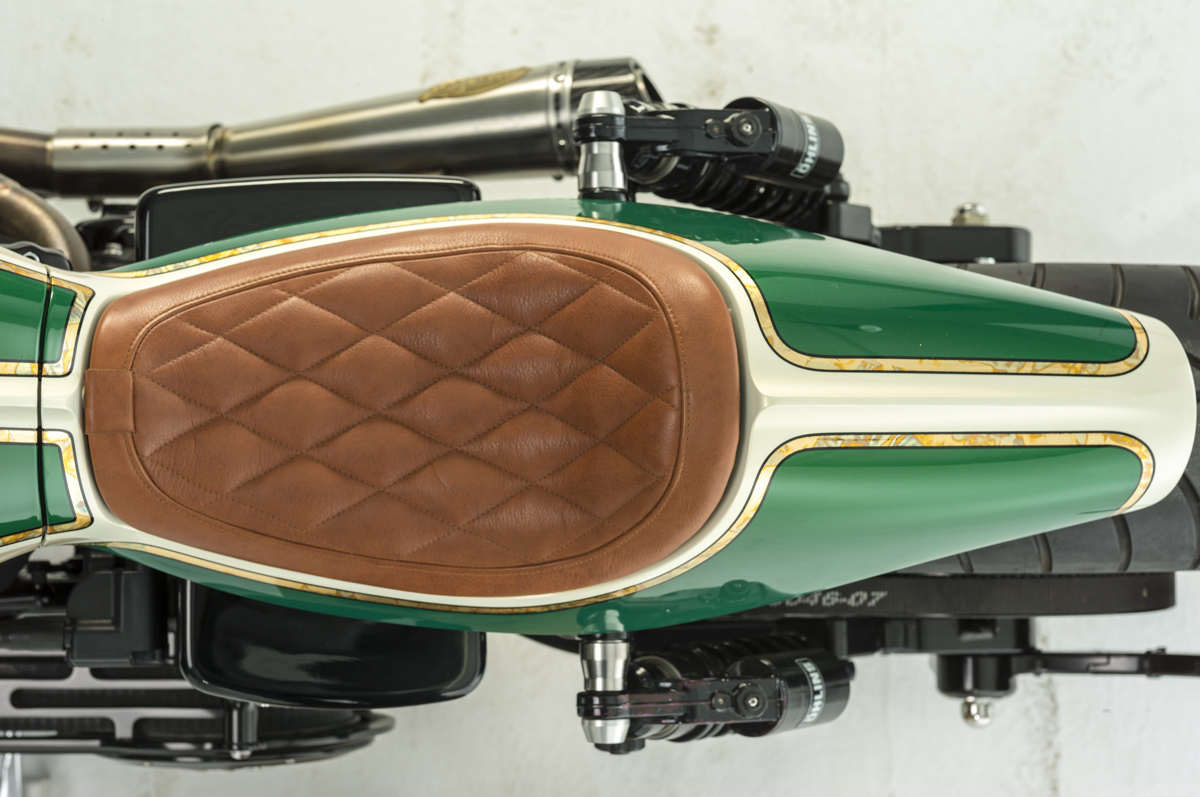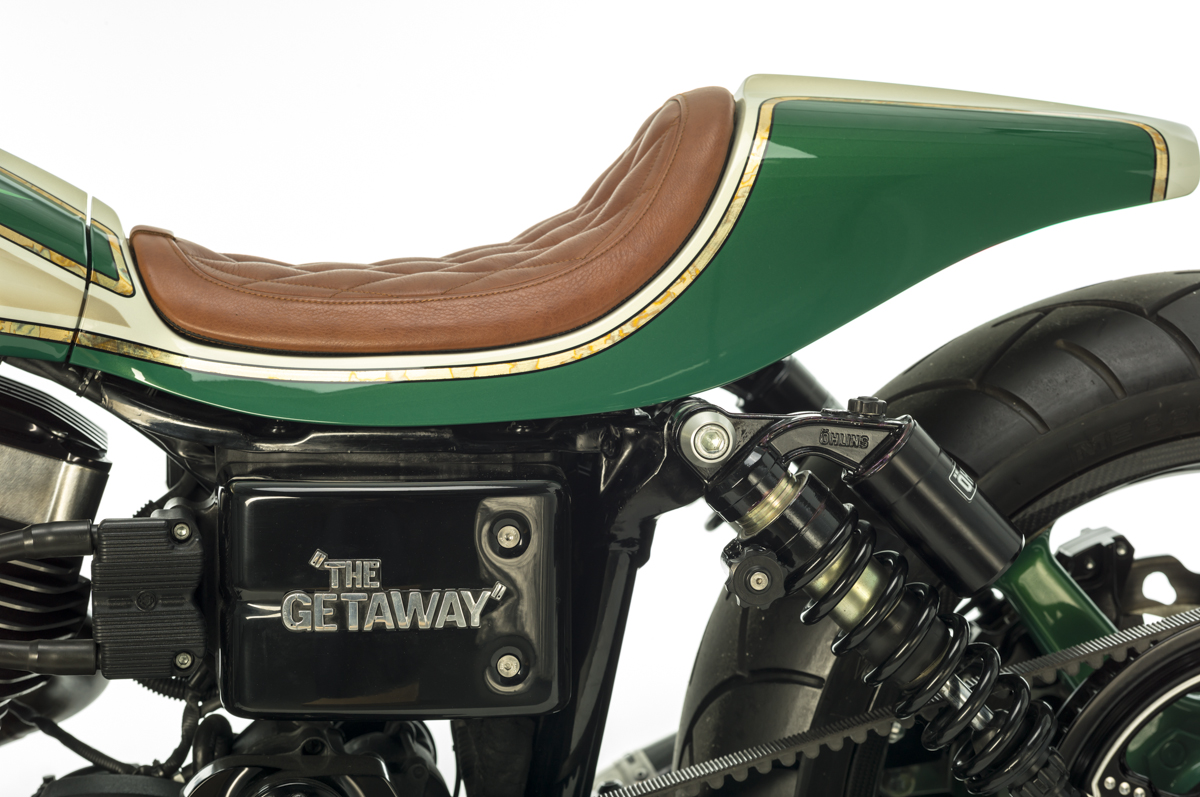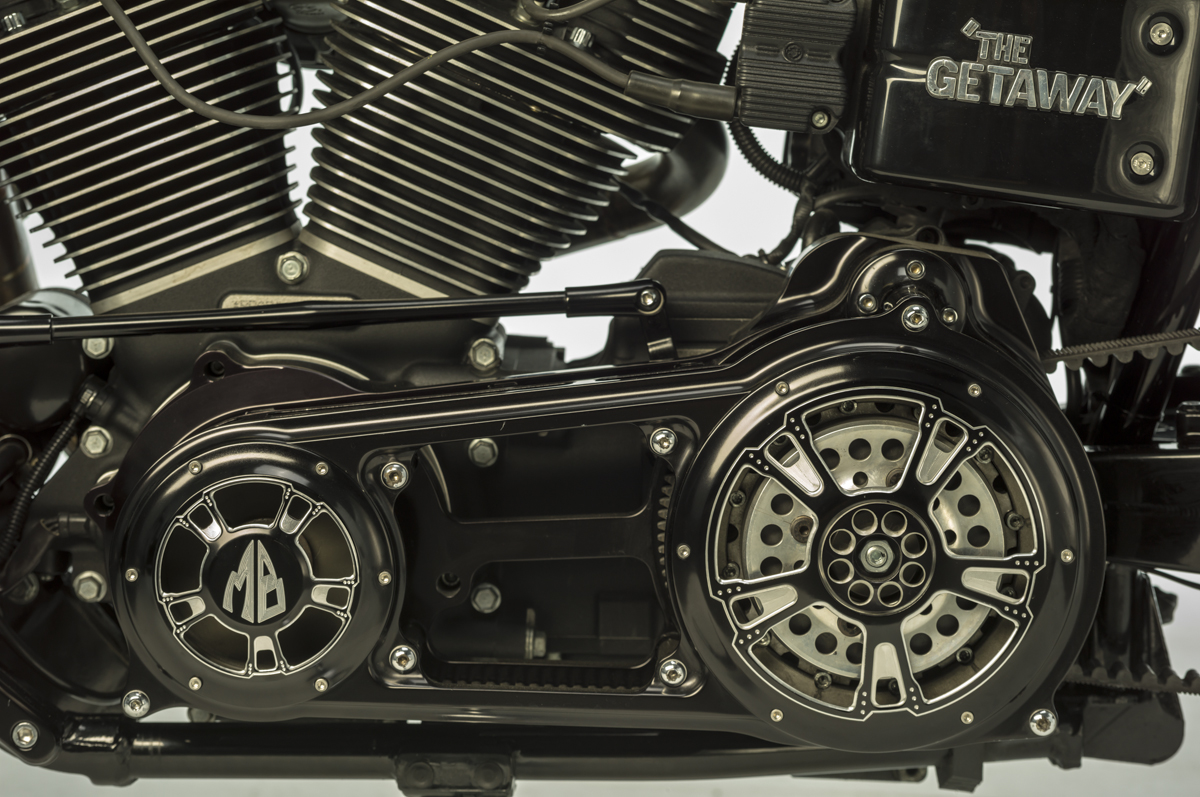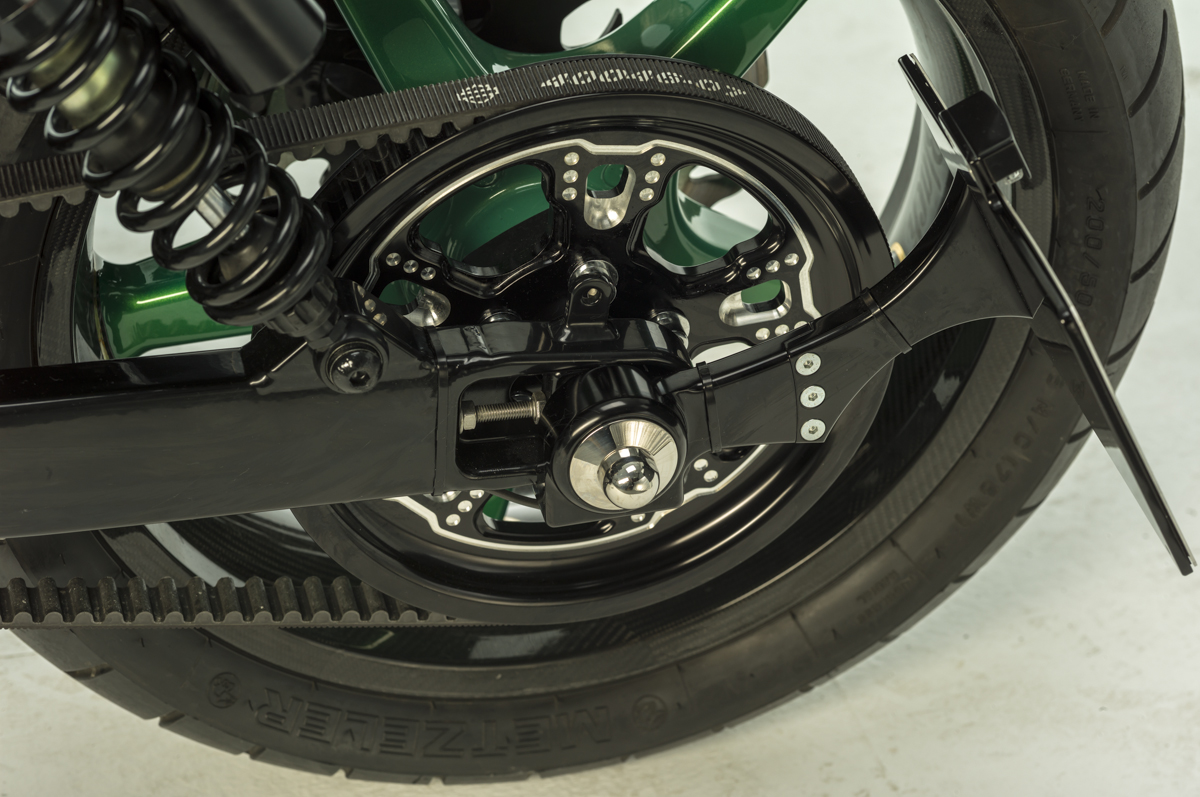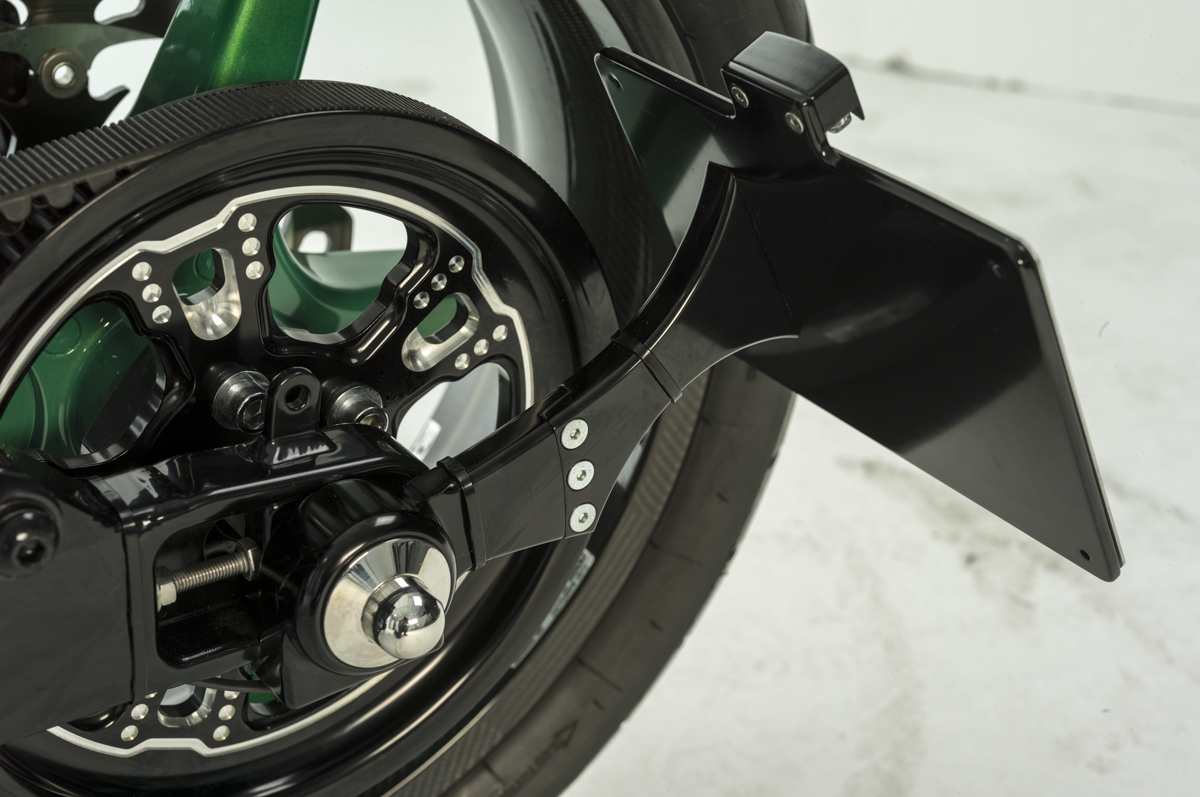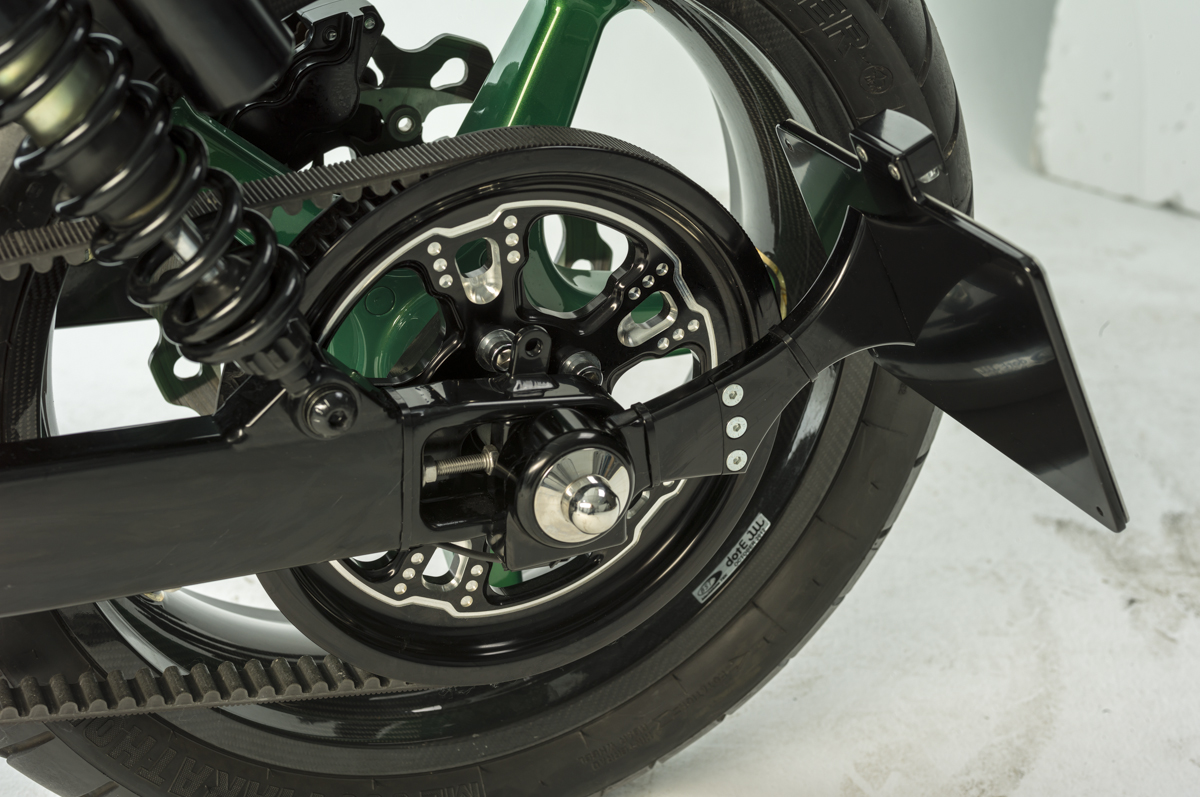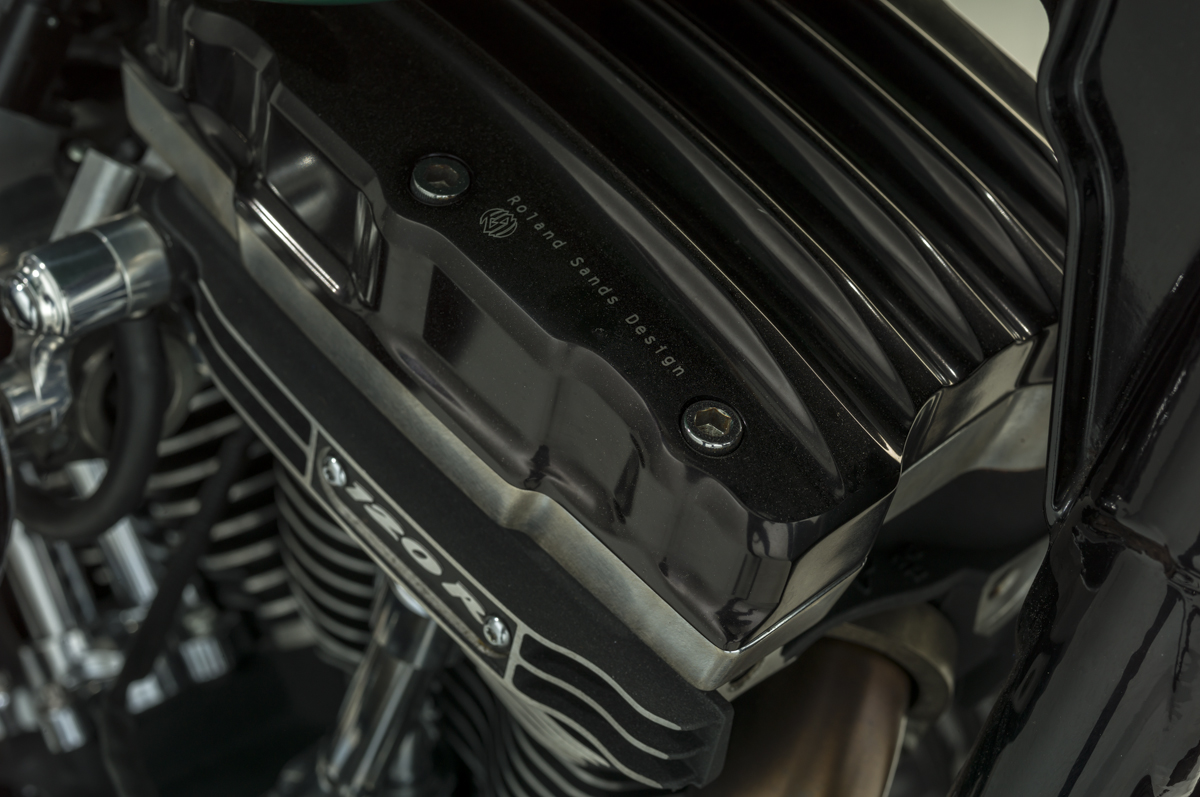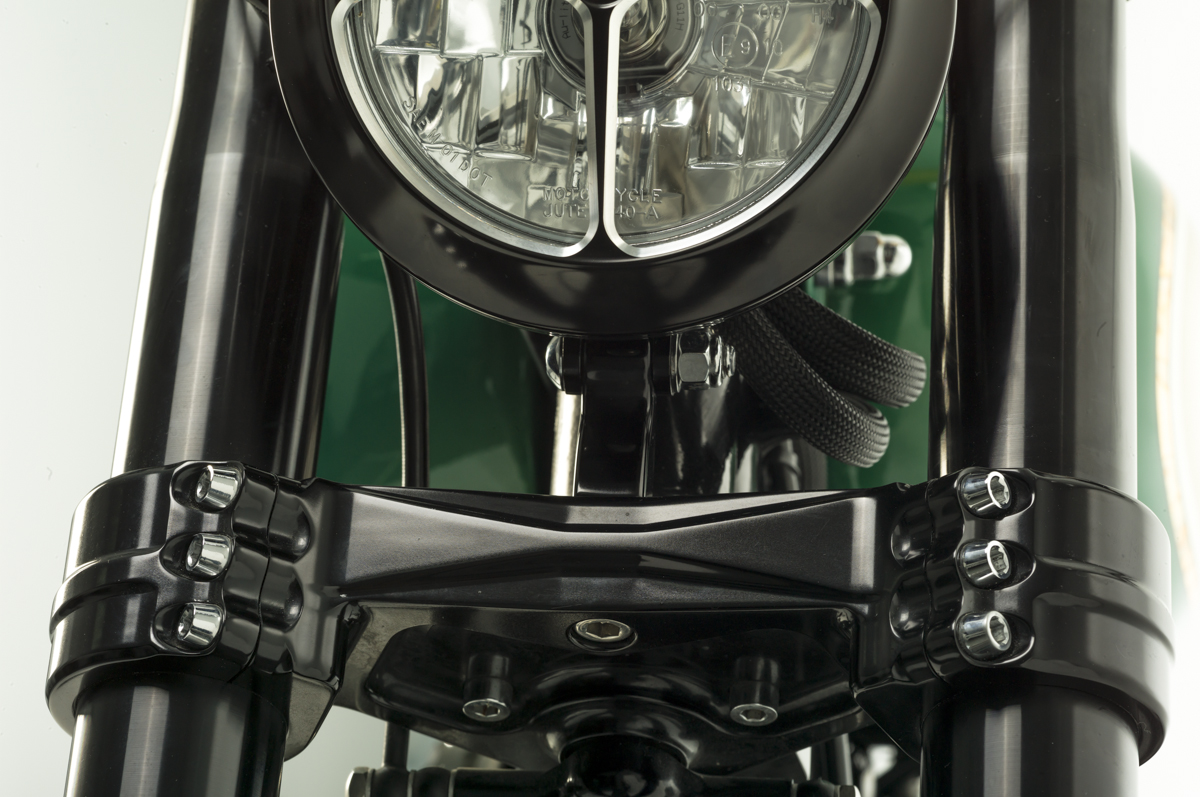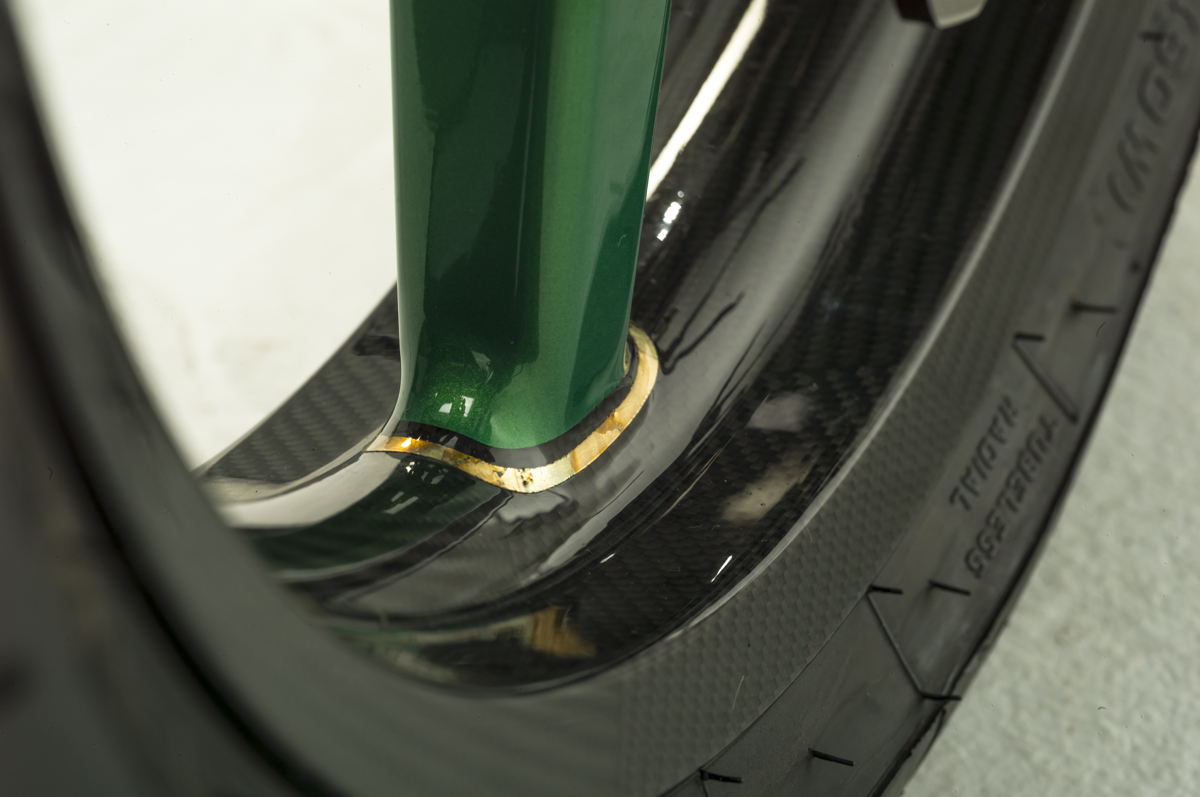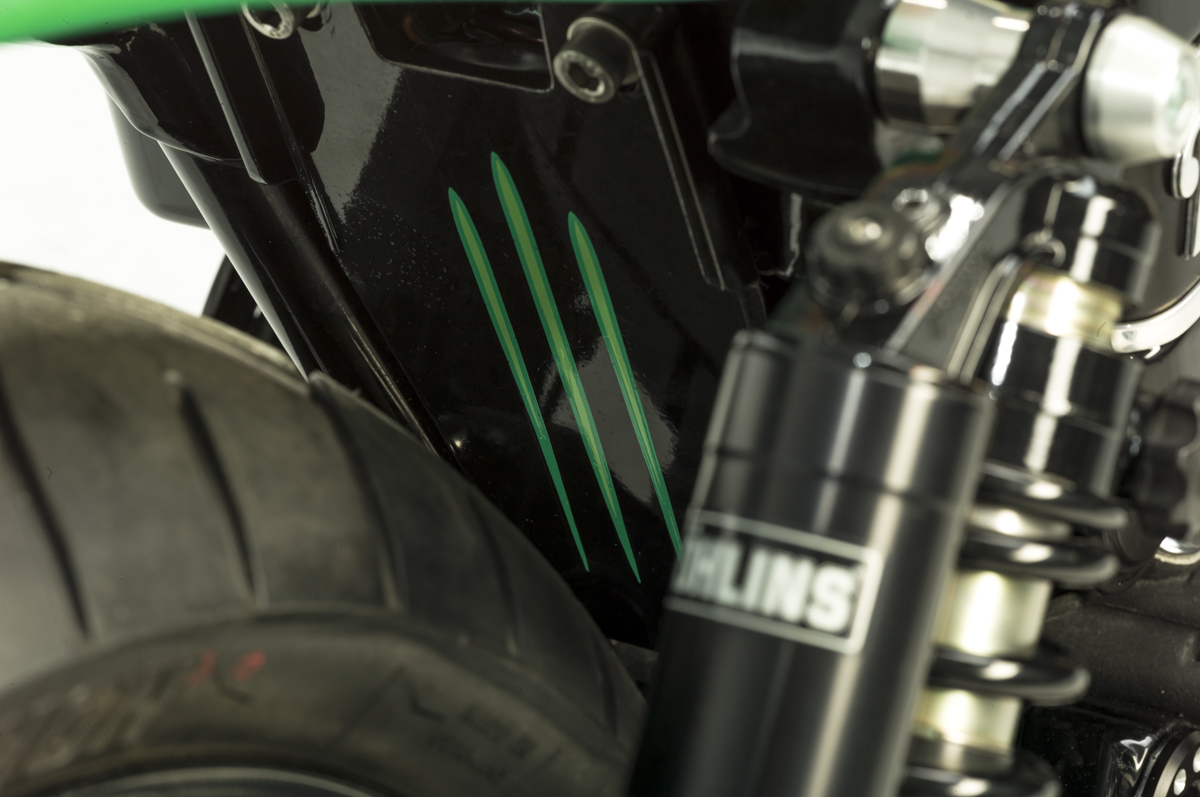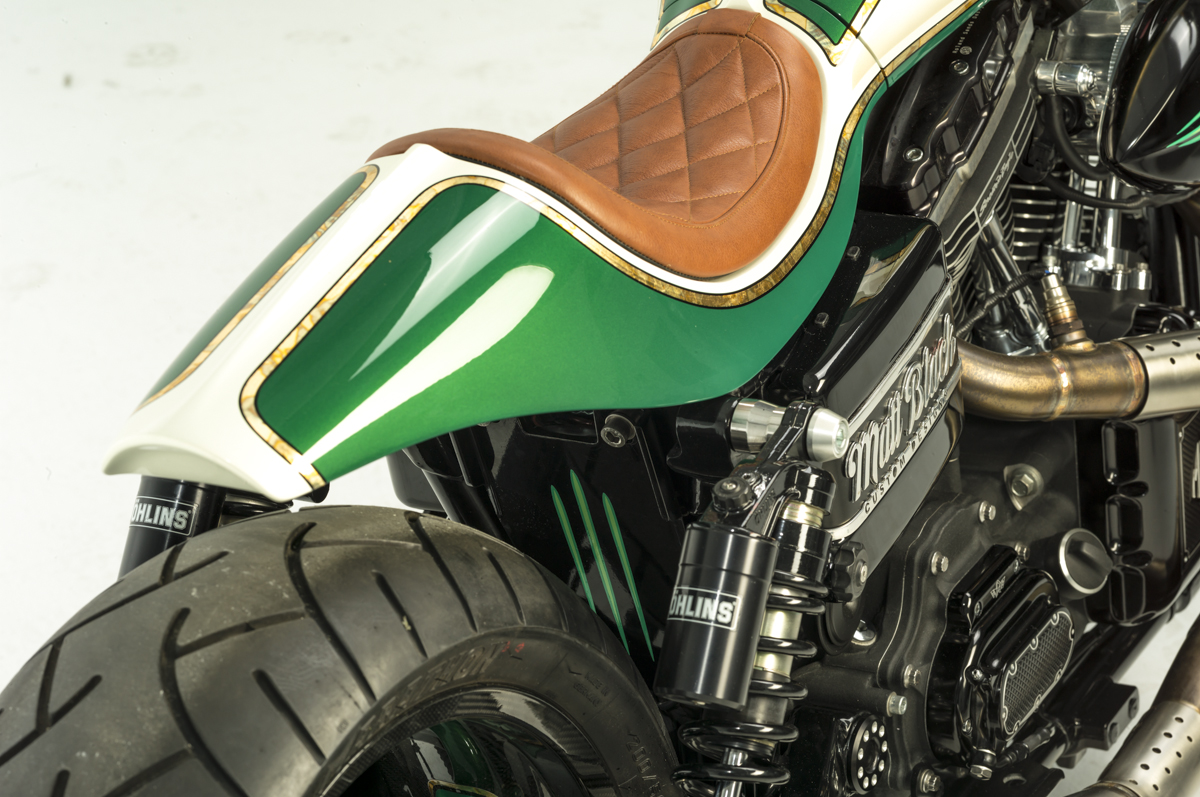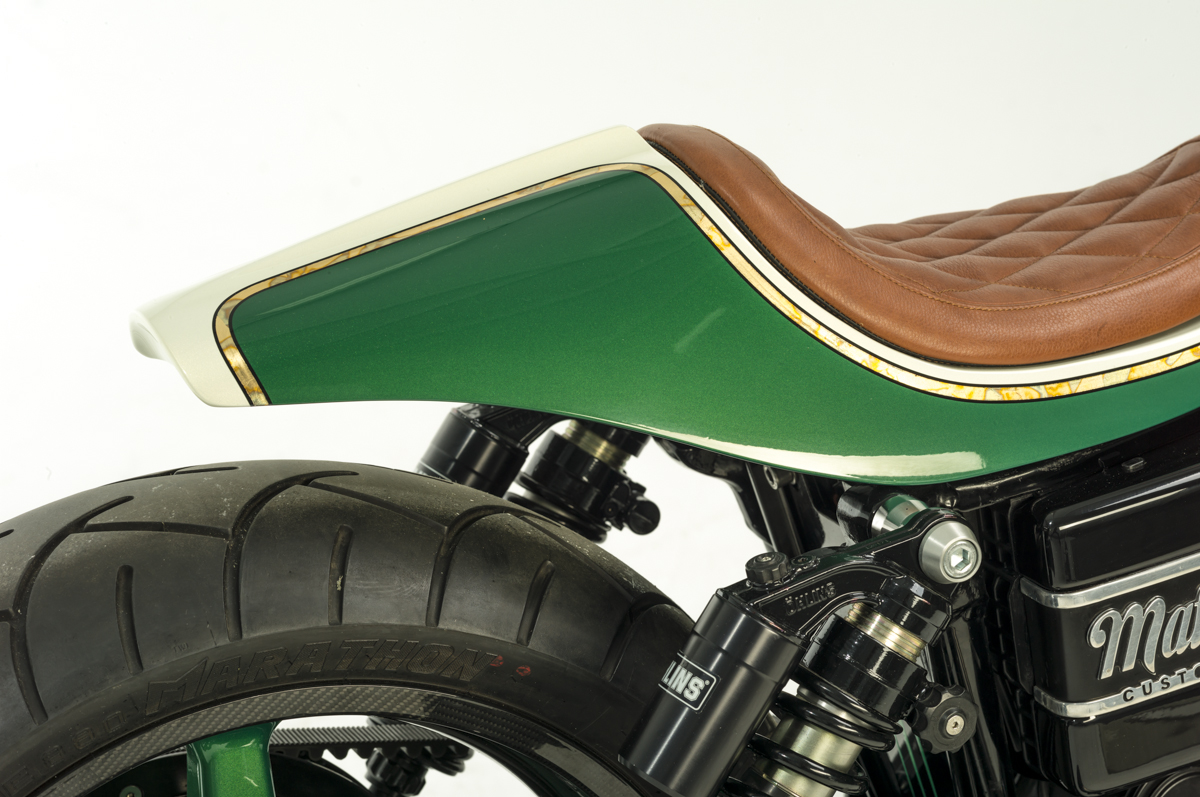 This bike started as a 2007 Dyna Street Bob, a model that at the time Harley introduced it was described as a "stripped down to the bare essentials and naked as the law allows." A bike conceived to be easily personalized, the most frequent changes always being the trio new bars, new air cleaner, new exhaust. The first makeover went beyond this, but not very far. Then a second one was performed, born from a desire of more power, better handling and of higher quality parts from the best aftermarket of the industry.
No surprisingly, this Street Bob was redesigned and rebuilt using several brand products, adopted by the best racers. With that in mind, for crisp responsiveness on the road, the choice was made to go for Ohlins front and rear suspension, to radial powerful Brembos brakes and Galfer discs. For weight loss, super light BST Carbon fiber wheels and a new stronger aluminum swingarm from Metmachex Engineering weighting over 30lbs less than the factory steel one.
On a bike that you want to move up to the racer category, a factory Twin Cam 1584cc would not do enough. So we replaced it with a Screaming Eagle 120R unit with S&S throttle bodies. A motor deserving to be cradled and coupled to a 7-speed Baker Drivetrain tranny and a modified Performance Machine open belt primary.
When it came down to the tank and tail on this beast It was my first ever attempt at fabricating them from Aluminium back in 2013 and man it was a fun lil project!. I wanted this bodywork to look like a monocoque one piece and virtually seamless. I took a Thunder bike tank and chopped the tunnel out and welded in a deeper one, then welded on new mounting tabs and closed the massive gap, I elongated tail end of the tank and terminated it square and flat to flush mount with the tail I was going to make. I think it took me 3 tries to get the tail section into shape and many swearing sessions before I figured it out. Ok it wasn't the most beautiful ally sheet metal work ever but it wasn't going to be polished it was off to paint! So rather than kill myself by trying to perfect yet another self-taught skill. I handed it over to Ray Hill and smoothed it and gave it the epic paint job you see here!
For accessories, in addition to those parts machined in-house, calls were made to Italian Rebuffini for hand and foot controls, triple tree and for a series of one-off engine covers.
All other custom parts are listed in the specs >>>>
\\ SPECS
NAME OF THE BIKE: The Getaway
MODEL: 2007/2015 H-D Street Bob
ENGINE: Screaming Eagle 120R
THROTTLE BODIES: S&S 58mm
FUEL TUNE SYSTEM: TTS, Master Tuner
EXHAUST: RSD, Slant 2-1, Stainless Steel
AIR FILTER: Rebuffini
CAM COVER: by Rebuffini modified
ROCKER COVERS: RSD
PRIMARY: Rebuffini modified Performance Machine open belt
TRANSMISSION: Baker DD7
HYDRAULIC CLUTCH: Rebuffing with Star Clutch Housing
REAR BELT PULLEY: Rebuffini
FRONT SUSPENSION: Ohlins 43mm R&T, Black
TRIPLE TREES: Rebuffini
RISERS: Rebuffini
FRONT RIM: BST, Black Star Carbonfiber, 3,5"x19"
FRONT BRAKE CALIPERS: 2-piston Brembo
FRONT BRAKE DISCS: Galfer Wave Dual Discs
REAR SUSPENSION: Ohlins, Type 36 PRCLB
WHEELS: BST, Black Star Carbonfiber, 5,5×18
REAR BRAKE CALIPERS: 4-piston Performance Machine
REAR BRAKE DISC: Galfer Wave Disc
FORWARD CONTROLS: Rebuffini
HAND CONTROLS: Rebuffini
HANDLEBARS: LSL Aluminium
MIRRORS: Rebuffini
GRIPS: Rebuffini MB Special for Motogadget indicators
HEADLIGHT: Performance Machine
INDICATORS: Motogadget, M-Blaze Cone
LICENSE PLATE HOLDER: Rebuffing
SWINGARM: Metsmachex
TANK: Modified Thunder bike Aluminium
SEAT: Aluminium bodywork by Mr Partridge
WIRING: Kurt (Mr socially unaceptable) Lohse
PAINT: Ray Hill – Spray Hill